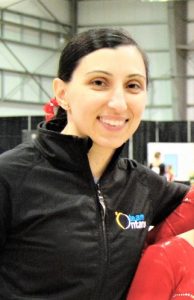 Please welcome Coach Nadia to our OGC Tumbling Program.  Nadia has been a Provincial and National Level Tumbling coach for almost two decades.  Over those years she has produced numerous Ontario and Canadian Tumbling Champions.  Nadia has also coached many athletes to the International Level and been the Canadian Team Coach for several World Age and World Championships.
Nadia will be coaching the Provincial 4 & National Tumbling Group with Coach Don.  Nadia will also spend part of her time working with the OGC Women's Artistic Gymnastics Team helping with Teams 1 & 2.
You will also get to know Nadia through email as she will be taking over the reins when it comes to Communication and Administration for the Tumbling Team.
We are very excited to have another Level 4 Coach join our team.  Her expertise and passion will be a great benefit to our club.