Director/Head Coach
Power Tumbling & Acrobatic Gymnastics Programs
Don joined the Oakville Gymnastics Club in 2005 and along with Niki Lavoie has been working to build up a strong Power Tumbling Team. In 2006 Don introduced the discipline of Acrobatic Gymnastics to the Oakville Gymnastics Club.
Don began his coaching career in Listowel, Ontario at a small club and then went on to coach in London and Burlington. Don was a National level tumbler for three years competing for the Burlington BG's then went on to compete as a National level springboard diver for four years with various clubs in the GTA.
Don and Niki together have produced numerous national team athletes and Canadian Champions in Power Tumbling. The Oakville Tumbling Program is now the largest tumbling program in Canada and with Don and Niki, who both have experience as Canadian National Team Coaches, the OGC tumblers have great prospects for the future.
Don has twice been the National Team coach for the Canadian Age Group Acrobatic Gymnastics Team. He currently volunteers on the Gymnastics Canada Acrobatics Working Committee and is a member of the Acrobatic Gymnastics Technical Committee for Gymnastics Ontario.
Coaching Certification
Level 2 Men's Artistic Gymnastics
Partial Level 4 Trampoline
Level 2 Springboard Diving Instructor
FIG Level 3 Acrobatic Gymnastics Coach
H.B.Sc. Biology and Psychology
Experience
Tumbling Coach at Burlington BG's 1999 to 2005
National Level Power Tumbler 1996 – 1999
National Level Springboard Diver 1999-2003
National Team Coach Power Tumbling World Championships 2003, 2011, 2014 & 2015
National Team Coach Power Tumbling World Age Group Championships 2001, 2003, 2007, 2009-2015
National Team Coach Power Tumbling World Games 2005
National Team Coach Acrobatic Gymnastics 2010, 2012
Assistant Head Coach Springboard Diving KW Diving Club 2005-2006
Head Coach
Power Tumbling Program
Niki began her career in gymnastics as a Provincial Level Artistic gymnast at the Quinte Bay Gymnastics Club in Belleville. Niki went on to compete for McMaster University while obtaining a Bachelor of Arts in Psychology. She has been coaching gymnastics and tumbling for over 15 years.
Niki was the Canadian National Team Coach and appointed the Tumbling Advisor to the High Performance Director for Gymnastics Canada in 2005 and 2007. She has traveled extensively with the National Team and is a respected leader in the sport of Tumbling.
Niki is fully Level 4 Trampoline certified as well she has a diploma in Sports Injury Therapy. Niki is also a licensed Massage Therapist and Acupuncture Therapist. Niki manages the Gleb Abbey Sports Therapy Clinic located within the Oakville Gymnastics Club.
Coaching Certification
Level 4 Trampoline
Level 3 Women's Artistic – partial
Experience
Tumbling Coach Burlington BG's 2000 to 2005
Women's Artistic Gymnastics Coach/Choreographer Quinte Bay Gymnastics Club 1996 to 2000
National Team Coach for Power Tumbling 2005 and 2007 World Championships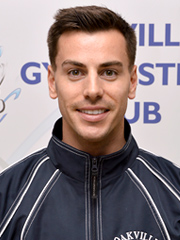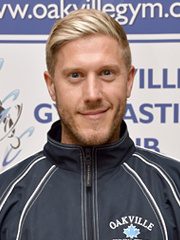 Women's Artistic Program
Candice has been coaching gymnastics in Ontario for 18 years. Candice's passion for the technical details of the sport, coupled with her commitment to solid basics and physical conditioning, ensures all athletes have the foundation in place to attain their goals. She encourages, supports and guides the athletes both in and out of the gym.
She is very well respected in the gymnastics community and we are very fortunate to have her as a member of our coaching staff. In addition to her commitment to coaching gymnastics, Candice is also a teacher with the Halton District School Board.
Coaching Certification
Level 2 Women's Artistic Gymnastics Certification
Level 2 Trampoline Certification
Level 3 Women's Technical and Theory
ODP Assessor
Coaching  Highlights
One of only 3 coaches in Canada selected for an internship with the Coaching Association of Canada for up and coming coaches in 2009
Coach of all-around Ontario Provincial Champions
Coach of multiple Ontario Provincial apparatus champions and medalists
Coach of multiple Ontario Cup champions
Coach of multiple all-around and apparatus champions and medalists at Gymnix International Invitational
Women's Artistic Gymnastics

Women's Artistic Gymnastics Program

Annika joined Oakville Gymnastics Club in January 2016 and coaches OGC's Compulsory WAG Program.
Her involvement with gymnastics began when she was 5 years old. She competed as a provincial level gymnast and power tumbler up until the age of 16.
Her coaching career started when she turned 13. She has coached many levels and disciplines including power tumbling, pre-comp and provincial level athletes. She continued to coach gymnastics while completing her Bachelor of Education at the University of Toronto.
Annika is pleased to be part of the OGC team and will continue to work with the Compulsory level groups on conditioning, flexibility and level 3, 4 and 5 skills with the goal of reaching Provincial Championships and continuing on to higher gymnastic levels.
Coaching Certification
Level 1 Artistic Gymnastics Coach
Level 2 Women's Artistic Gymnastics
Level 2 Trampoline
ODP Assessor
B.A. Child and Youth Care
B.A. Education
Experience
Provincial Level Gymnast and Power Tumbler – Scarborough Gym-Elites
12 years coaching experience
Interclub Power Tumbling and WAG coach – Scarborough Gym-Elites
Pre-comp and Provincial Team coach – University of Toronto
Weekend/Summer Recreational Coordinator- University of Toronto
Provincial Compulsory Program – OGC
Women's Artistic Gymnastics

April joined Oakville Gymnastics Club in 2015 and coaches our younger WAG athletes. She works with the girls, teaching them correct form and technique so that they will be able to perform when the time comes to move to a higher level.
April is a former competitive provincial gymnast and cheerleader. In 2012, while studying Math at Wilfrid Laurier University, April helped their competitive cheerleading squad win the 2012 National Title.
April is a Women's Artistic NCCP Level 2 coach and continues to add to her coaching resume having recently completed the ODP Assessor's Course. She is very well liked by the girls she trains and is able to get the most out of her athletes by being supportive and encouraging.
Coaching Certification
Women's Artistic NCCP Level 2
Level 2 Trampoline
First Aid Certified
Experience
9 Years Coaching for Milton Springers and Revolution Gymnastics – Invitational, Pre-Competitive and Competitive Women's Artistic Gymnastics
Member of Wilfrid Laurier's 2012 National Champion Cheerleading Team
Competitive Provincial Gymnast for 7 Years
6 Years of Competitive Cheerleading
ODP Assessor's Course – 2016
Women's Artistic Program – Choreographer
Professional Background :
National athlete (rhythmic gymnastics), Principal and Lead dancer for various Russian Dance Theatres, one of the leading choreographers for stage performances, festivals and shows in Europe and Canada.
Education : Masters Degree in Coaching and Choreography for rhythmic, artistic gymnastics and sports acrobatics, University of Physical Cultures and Sports, Russia, National School of Ballet Bolshoi Theatre.
Achievements : Russian Champion in freestyle routine and hoop routine, multiple special awards for artistry and choreography in rhythmic gymnastics, numerous Awards for Best Choreography in Artistic Gymnastics in Canada. Choreographer and co-coach for Canadian National Champions, Champions of Ontario and International competition medalists on floor and beam. Recipient of a various Awards for the Best Choreography at Dancing Festivals (Russia and Europe), acclaimed choreographer for TV and fashion shows in Europe, Russia and Canada.
In the last 12 years closely worked with the leading coaches and athletes in Canada. Composed floor and beam routines for famous Canadian athletes and Canadian Team members such as: Kelsey Hope, Brittney Habib, Kristina Vaculik, Mikaela Gerber, Sabrina Gill, Christine (Peng-Peng) Lee, Silvia Collussi-Pelaez, Jessica Dowling, Sasha Yermolchuk, Megan Roberts and many other national athletes.
Provided services as a clinician for Gymnastics Canada and Gymnastics Ontario for floor and beam choreography, along with seminars on ballet training for gymnastics and general artistic preparation.
Head Coach
Men's Artistic Program
Greg is a graduate of Seneca College's Advanced Coaching Techniques – Gymnastics Diploma Program and has been an NCCP coach since 1982.
Greg started judging in 1987 and has held a FIG Brevet since 2001. He has judged at Pan-American Games, Commonwealth Games, Japan Cup and many other National and International assignments.
Greg has been the Chairman of the Gymnastic Canada's Men's Program Assembly and a member of its Men's Program Committee since 2004.
Greg is the Chairman of Gymnastics Ontario's Men's Technical Committee (MTC) and has been an MTC member since 2002.
Greg has been coaching at the Oakville Gymnastics Club since March 2001 and, with the help of his assistant coaches, has developed a strong developmental and competitive Men's Artistic program that has included Provincial, Eastern and National Champions as well as NCAA student athletes and a Cirque du Soleil artist.
Coaching Certification
Men's gymnastics – Level 4
Women's Gymnastics – Level 2
Trampoline – Level 2
NCCP Level 2 Men's Course Conductor
Experience
Head Coach OGC Men's Competitive Program 2001-Present
Head Coach Sport Seneca Gym Men's Competitive Program 1996-2000
Asst Head Coach Ottawa Gym Club Men's Comp Program 1995-1996
Head Coach Gymelites de Hull Men's Competitive Program 1993-1995
Asst. Coach Sport Seneca Gym Men's Competitive Program 1990-1992
Asst. Coach Ottawa Gym Club Men's Competitive Program 1985-1990
Recreation coach Ottawa Gym Club (1982-1985)
Director/Head Coach Town of Aylmer Recreation Program 1982-1987
Awards
Gymnastics Ontario Diamond (25 year) Service Pin (2012)
Gymnastic Canada Gold (15 year) Service Pin (2011)
Oakville Sport Oakville Awards (2008)
Government of Ontario 20 Year Volunteer Service Award (2007)
Gymnastics Ontario Program Service Award (2006)
Men's Artistic Program
Dave brings over three decades of coaching experience to the Oakville Gymnastics Club. Dave judged internationally for Canada for 8 years attending over a dozen World Cup competitions as well as 2 World Championships (St. Petersburg, Russia and Birmingham, England) and 2 World Games (Germany and Taiwan).
Dave has a keen understanding of what is expected of athletes at the high-performance level and is able to transfer his knowledge to the gymnasts that he coaches. He works to develop the whole person as well as their self-confidence, personal responsibility and assist each gymnast to work hard to achieve their personal goals. Dave's organizational skills and club management background make him an excellent addition to the OGC staff.
Coaching Certification
Men's Artistic Level 3 NCCP
Level 2 Trampoline NCCP
Women's Artistic Level 2 NCCP
Former FIG Level 3 Power Tumbling Judge
Provincial level Men's Artistic judge
Experience
Club Manager & Head Coach North Bay Apollo Gymnastics Club 1996 to 2007
Thunder Bay Gymnastics, Men's Artistic Head Coach 1991-1996
Guelph Saltos, Men's Artistic Head Coach 1988-1991
Woodstock Gymnastics Club, Men's Program Head Coach 1987-1988
Forest City Gymnastics Coach, Rec Program Coordinator, Men's Program Head Coach
Cambridge Kips Gymnastics, Women's and Men's Competitive Program Coach
Former National Level Tumbling Judging Course Conductor
Men's Artistic Program
Jason joined the Oakville Gymnastics Club in 2009 and has more than 10 years of coaching experience. He is currently a national level men's judge and the provincial coaching chairperson on the men's technical committee.
Jason is proud to be part of the team at OGC and strives to develop strong, confident, and technically sound gymnasts at every level.
Coaching Certification
Level 2 Women's Artistic
Level 3 Technical Men's Artistic and Trampoline
Experience
Men's Competitive Coach at Oakville Gymnastics (2009-Present)
Men's Program Director at Kitchener-Waterloo Gymnastics (2006-2009)
Men's Artistic Judge (2006-Present)
Men's Technical Committee (2007-Present)